PANINI
Physical Activity and Nutrition INfluences In ageing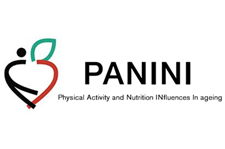 Multi-disciplinary project in which 11 doctoral students, hosted by the consortium partners, examined the effect of physical activity and nutrition on aging-related changes, considering both genetic and social factors.
Life expectancy increases dramatically in Europe, but sadly the healthy period of most seniors is not keeping pace with complications for health, social care and pensions leading to estimated costs more than doubled by 2050.
Contributing to healthy aging over the development of frailty and developing the necessary interventions to influence social policy and promote healthy aging is a priority in Europe.
Given the significant impact of lifestyle factors on aging and diseases developed in the elderly, there is a surprising lack of innovative multidisciplinary training and research examining the influence of physical activity and nutrition on changes related to health at the gene and social level. PANINI has addressed this gap by coordinating research laboratories across Europe to study aging through the training of 11 ESRs in scientific disciplines to create a holistic approach to the challenge of aging in the 21st century.
PANINI is a European training network with 8 world-leading beneficiaries working on healthy aging and 10 non-academic partners carefully selected for quality and range of sectors. PANINI's vision is to implement cross-sectoral multidisciplinary research and the training of a new cohort of researchers who adopt a radically innovative approach to overcome the challenge of healthy aging.
Other partners involved in the project:
Age UK – UK – Research Department – Nominated Project Lead – Training and Dissemination

UNIE KBO – Netherlands – Policy/public affairs – Ms. Ellen Willemsen – Dissemination

HUR Ltd – Finland – N/A – Mr Jussi Jaakola – Training and secondments

HUR Labs Ltd – Finland – N/A – Mr Jussi Jaakola – Training and secondments

Danone Nutricia Research – Netherlands – Research in Muscle & Mobility – Dr Sjors Verlaan – Training and secondments

Move it or Lose it – UK – N/A – Ms Julie Robinson – Training

University Hospitals Birmingham NHS Foundation Trust – UK – N/A – Prof Phil Begg – Training and secondments

Scriptoria – UK – N/A – Dr Sandy Williams – Training

Blueberry Training Ltd – UK – N/A – Dr Andrew Corcoran – Training

Joint Research Centre – Italy – Institute for Health & Consumer Protection – Dr Sandra Caldeira – Training and secondments
Other projects
KATY
KATY uses Artificial Intelligence and Bioinformatics in the fight against cancer, with the aim of building personalized medicine systems to help doctors identify the best therapy for the patient.
Find out more »
INTCATCH
It is an important project within the Horizon2020 environmental programs that aimed to change the way in which monitoring of river and lake waters is implemented …
Find out more »
PROPAG-AGEING
The continuum between healthy aging and idiopathic Parkinson's disease, interpreted in a perspective of spreading inflammation and damage …
Find out more »
Contact us for more information